Hashbee is a blockchain platform aiming to provide investors with 
neutral and trustworthy information about cryptocurrencies
. As a neutral third party, we will provide users with have more comprehensive and useful information to make their investment decisions.
Hashbee is a startup firm and had built their MVP. The founders were very concerned about whether their content was clear and useful to users. Therefore, the requirements were to conduct
usability testing, user interviews, and iterate the design
.
Step 1: Usability testing
We conducted usability testing with

8 people

who had already invested cryptocurrencies before. We used

3 tasks

to test the

usability and trustworthiness

 of the website

. 
Task #1: Browse the home page 
(think aloud)
Task #2: Choose and save one interested token (think aloud)
Task #3: Check
the latest updates of 
your saved tokens
(think aloud)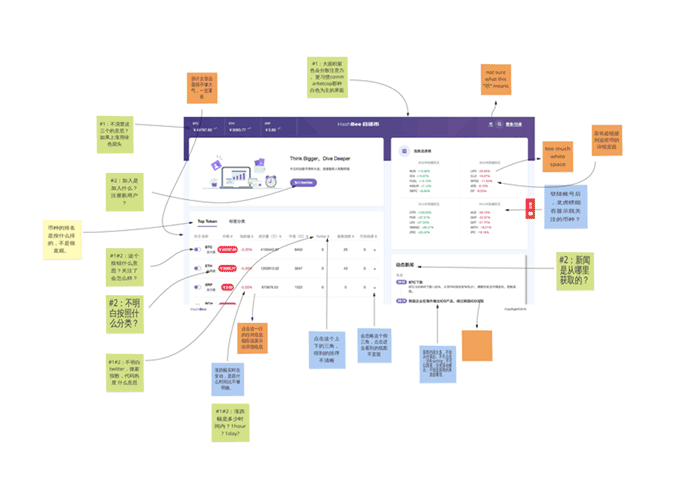 ​​​​​​​After gathering the raw data, we used affinity diagrams to synthesize testing results.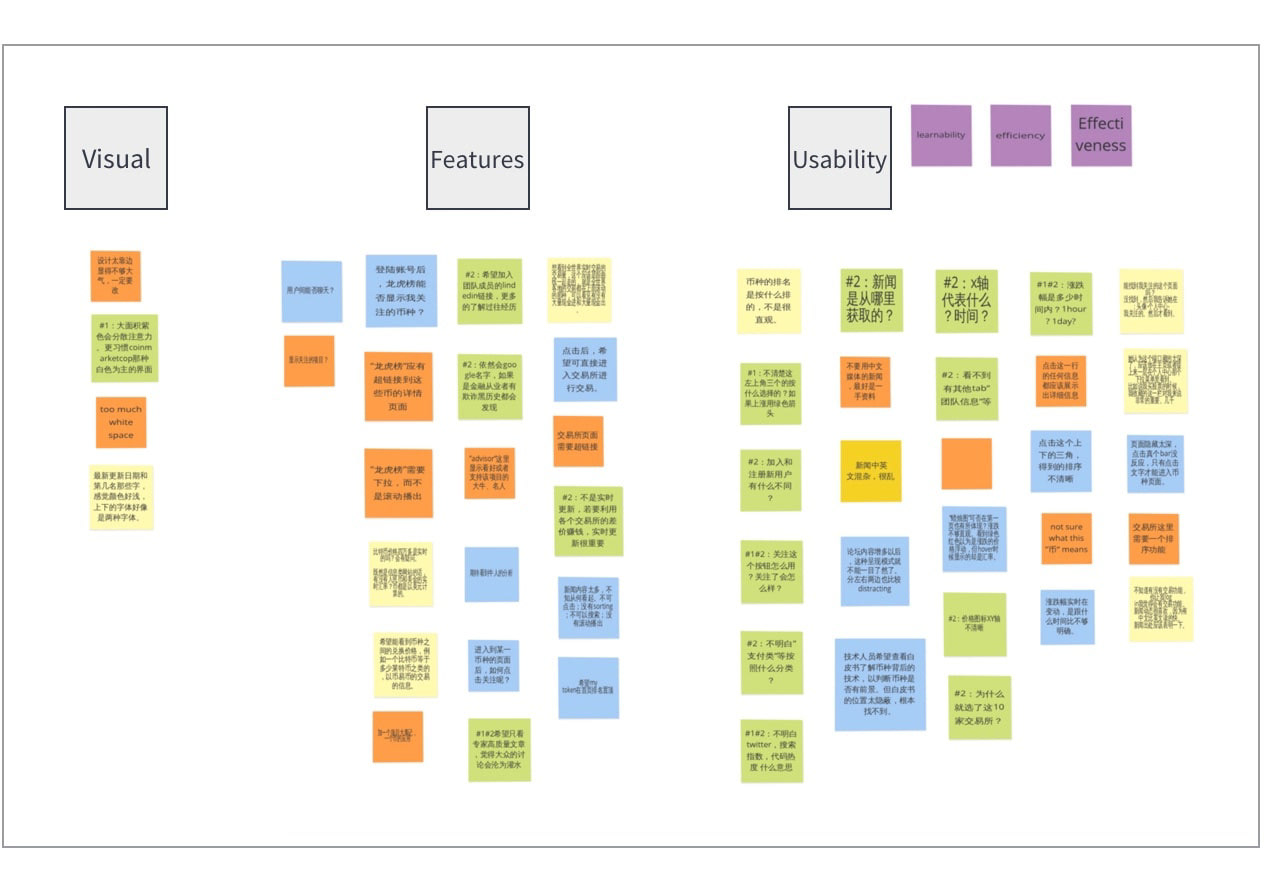 •     The information structure is confusing and hard to navigate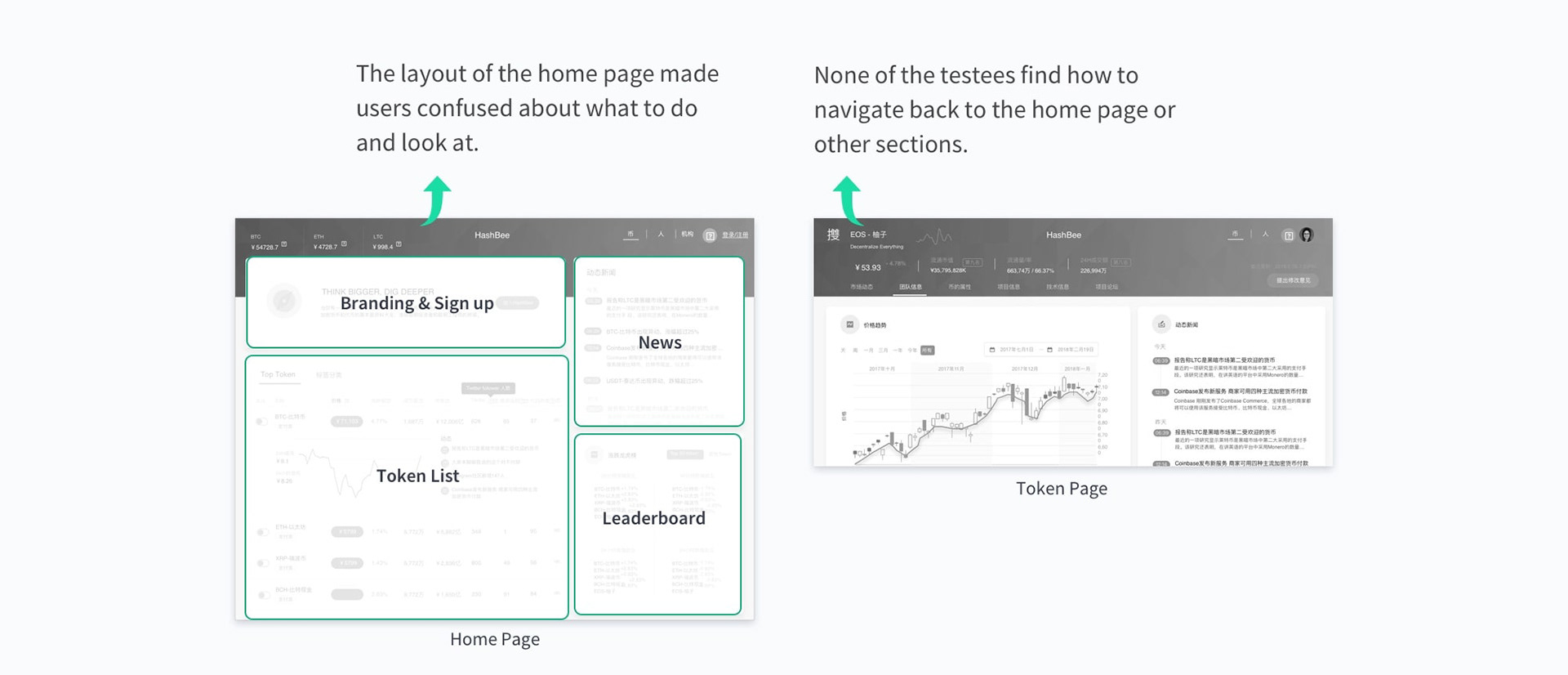 •    Some information is not clear and transparent
•   
The website is not neutral and trustworthy enough
Due to the lack of consistency, transparency, and clarity of information, users did not feel the website was trustworthy enough.
We also interviewed the 8 users after usability testing to have a better understanding of their 
goals, behaviors, and incentives
.
Then we
held workshops to synthesize their answers.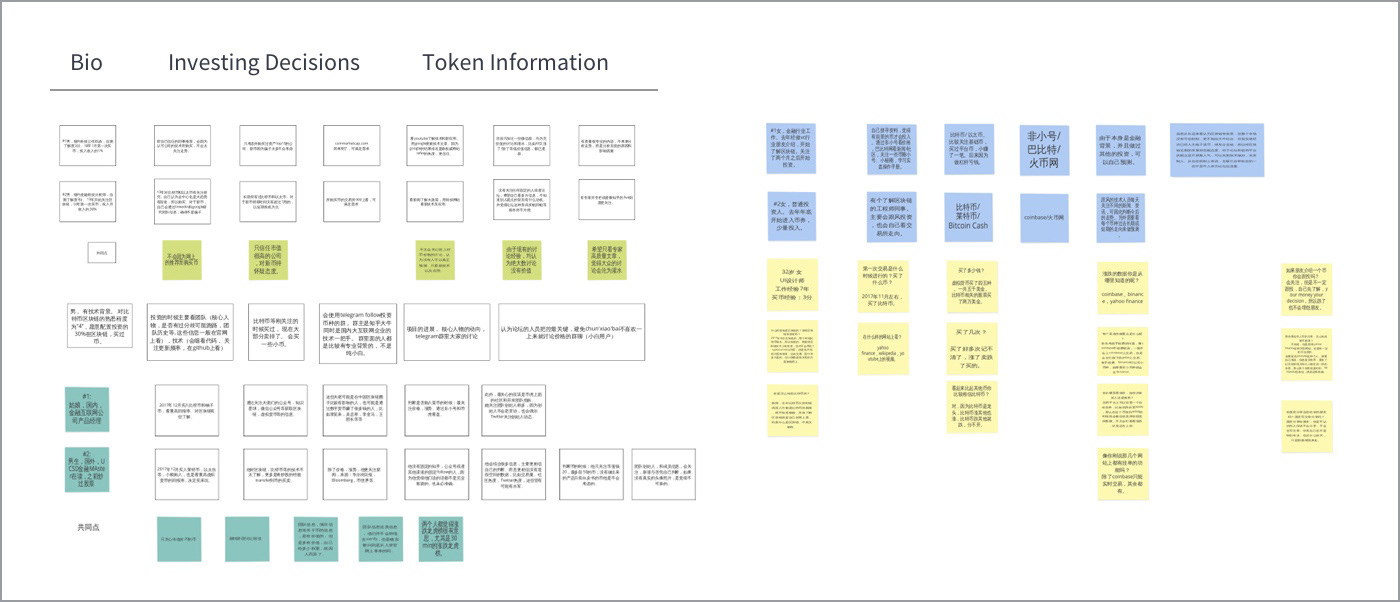 1. Users will use the website frequently but won't spend a lot of time at once. Therefore, the
information needs to be much easier to find and browse.
2. Users would like to just quickly check the information about their preferred tokens sometimes. We need to
add personalized information
.
3. Users are more likely to trust information from big firms
, 
such as Google, LinkedIn, the New York Times, and Coinmarketcap. We can
integrate links or search results
from these
well-known sources to
save users time and build their trust
.
The original website structure made users confused and lost. I redesigned the layout for the home page and token detail pages to make sure users can quickly understand what the website is for and navigate the whole site.
I
added
web navigation
for the three main sections: tokens, news, and topics. I also
rearranged the content
to make the information clearer. I explored three options:
Option A - Hamburger Menu

Option B - Fixed Top Navbar

I decided to go with 
Option C - Fixed sidebar with full-page section
. The goal of the website is to let users quickly find out what they want to know about cryptocurrencies. The
sidebar is more visible and accessible than a top navbar
.
Instead of showing all three sections on one page, making each section occupy its own full page makes the
information clearer and has more extensibility
. I revisited one user to test these options and he said the full-page section looks more professional and trustworthy.